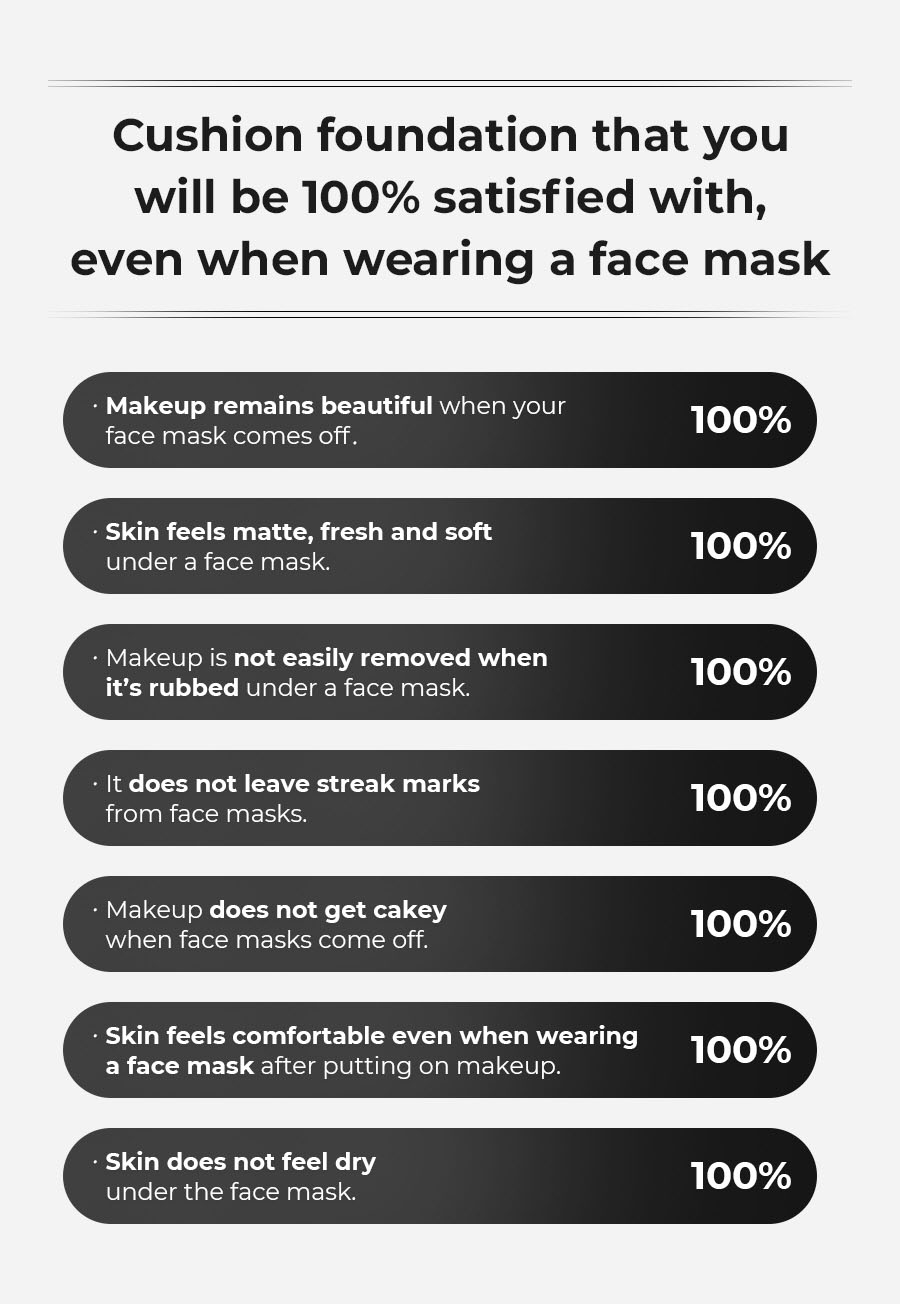 Cushion foundation that you will be 100% satisfied with, even when wearing a face mask
∙ Makeup remains beautiful when your face mask comes off.
∙ Skin feels matte, fresh and soft under a face mask.
∙ Makeup is not easily removed when it's rubbed under a face mask.
∙ It does not leave streak marks from face masks.
∙ Makeup does not get cakey when face masks come off.
∙ Skin feels comfortable even when wearing a face mask after putting on makeup.
∙ Skin does not feel dry under the face mask.
*94% effectiveness of foundation not being transferred to a face mask (transfer-proof effect)
Clinical trial results
Test institution: P&K Skin Research Center / Subjects: Adult women aged between 20 and 40 (N=22)
Period: January 18 to 19, 2021
BLACK LINE
Unique blending & layering with BLACK
"Magnet-fit Pigment Technology"
Unique BLACK coverage technology
that thinly and evenly spreads for enhanced blending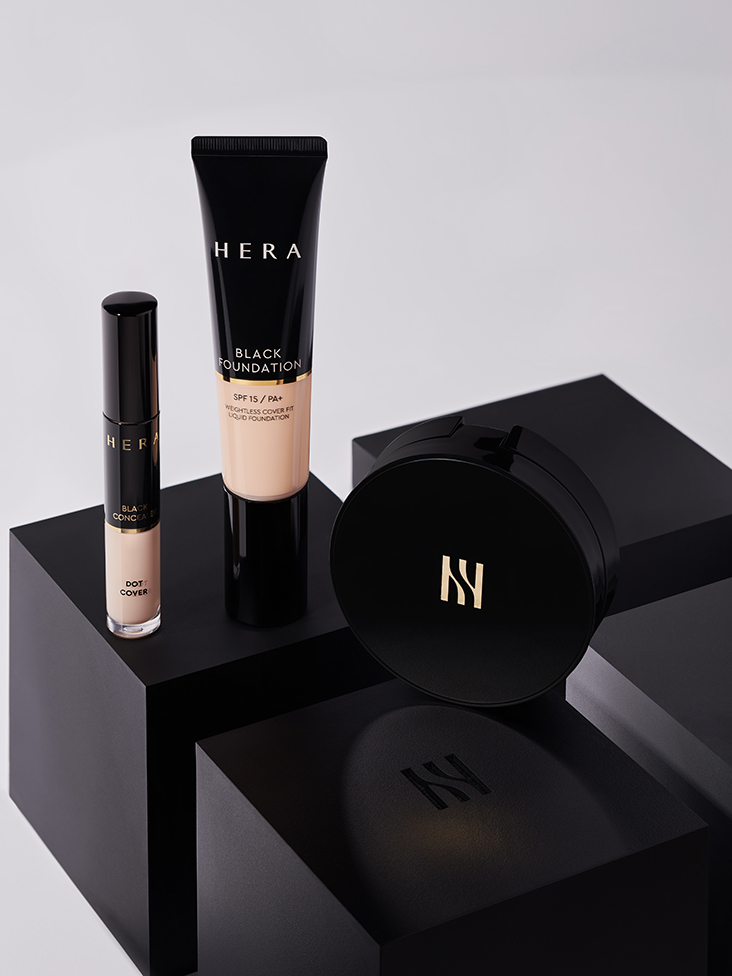 BLACK synergy for perfect, seamless coverage in a thin layer
The BLACK line features Cover Chemistry, allowing each of its products to draw on the others
to enhance blending and length of wear when used together.
Combinations of the BLACK line offer seamless coverage & color layering
that give a seamless look.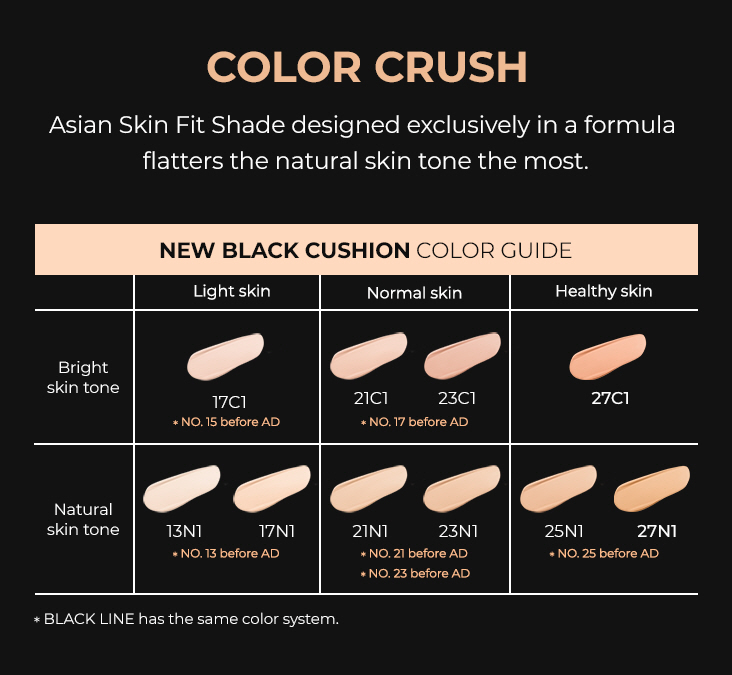 COLOR CRUSH
Asian Skin Fit Shade designed exclusively in a formula flatters the natural skin tone the most.
NEW BLACK CUSHION COLOR SHADE GUIDE
 
Light skin
Normal skin
Healthy skin
Bright skin tone
17C1 *NO. 15 before AD
21C1 / 23C1 *NO. 17 before AD
27C1
Natural skin tone
13N1 / 17N1 *NO. 13 before AD
21N1 / 23N1 *NO. 21 before AD *NO. 23 before AD
25N1 / 27N1 *NO. 25 before AD
*BLACK LINE has the same color system.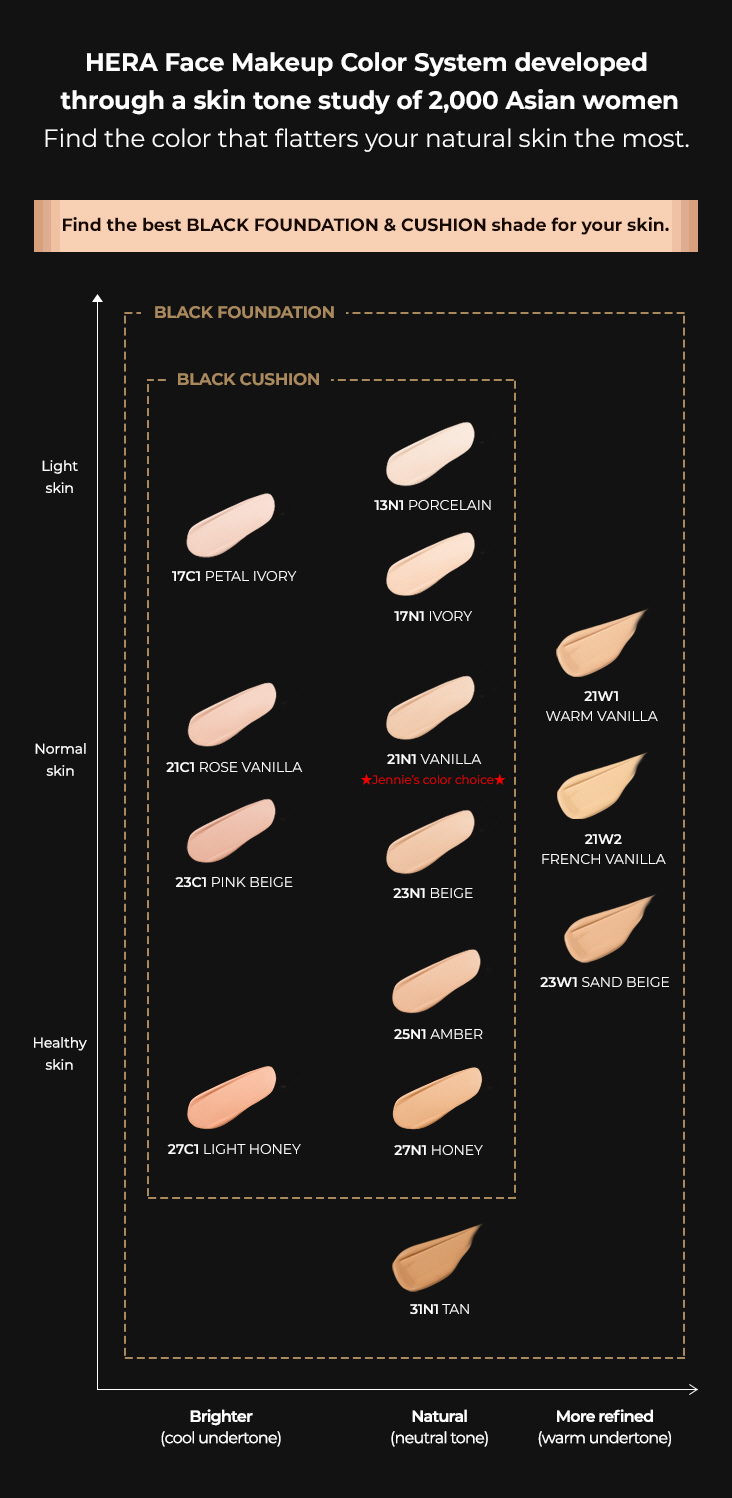 HERA Face Makeup Color System developed through a skin tone study of 2,000 Asian women Find the color that flatters your natural skin the most.
Find the best BLACK FOUNDATION & CUSHION shade for your skin.
Light skin / Brighter (cool undertone) - 17C1 PETAL IVORY Light skin / Natural (neutral tone) - 13N1 PORCELAIN, 17N1 IVORY
Normal skin / Brighter (cool undertone) - 21C1 ROSE VANILLA, 23C1 PINK BEIGE Normal skin / Natural (neutral tone) - 21N1 VANILLA(*Jennie's color choice*), 23N1 BEIGE Normal skin / More refined (warm undertone) - 21W1 WARM VANILLA, 21W2 FRENCH VANILLA, 23W1 SAND BEIGE
Healthy skin / Natural (neutral tone) - 25N1 AMBER, 31N1 TAN, 31N1 TAN Healthy skin / More refined (warm undertone) - 23W1 SAND BEIGE
Shelf Life
36 months from the date of manufacture, 12 months after opening
Precautions
Keep the inner case closed after use. Leaving the product unclosed may lead to shrinkage of the formula caused by evaporation of moisturizing components and other ingredients beneficial to skin.
If symptoms such as red blotches, swelling, itchiness or irritation appear while using the product and/or when the skin is exposed to direct sunlight after use, consult a dermatologist.
Do not use the product on any wounds or areas of irritation.
Precautions for handling and storing the product

Keep the product out of the reach of children.
Stop using the product if any abnormal symptoms occur.
Keep the product at 10–30℃, away from direct sunlight.
BLACK MAKE UP LOOK
Luxiface Ships directly from South Korea 
1. Shipping fee is charged not on per product but on per order.
2. Order processing time: 0-2 business days
3. Estimated delivery time (including order processing time)
FedEx: 3-5 Days
Korea Post-7-10 Days
Shipping Rates:
Korea Post :$8.99 United States except for Hawaii, Guam, Saipan
Korea Post: $5.99 Brazil, Canada, China, Germany, Spain, France, England (GB), Hong Kong, Japan, Malaysia, Philippines, Russia, Singapore, Thailand, Taiwan, Vietnam.
FedEx : $19.99 (Except South America)
South America :$29.99
*Free Shipping above $99 order value is available through Korea Post only and wherever Korea Post service is available.
The buyer is responsible for the imposition of customs duties and clearance.
For US, Import Tax and Duty over $800. U.S. Customs and Border Protection (CBP) announced that March 10, it raised the value of a shipment of merchandise imported by one person on one day that generally may be imported free of duties and taxes from $200 to $800
How are items packaged?
We package our products in individual boxes. Each product is packaged with a plastic layer and in bubble wrap while fragile items like bottles are safely secured with additional bubble wrap. We pride ourselves on the quality of our packaging.
How to track your package?
Once your order has been dispatched, you will receive an email with the details of the tracking number and the courier company that is processing your order.
You can track the status of your package after the order is placed on the order status page and an e-mail including the tracking link is emailed once the order is shipped.
What is the estimated delivery time?
We usually dispatch most orders within 1-2 business days (excluding Sundays and public holidays), and it usually takes up to 5 days for the package to be delivered depending upon courier partner
For any queries related to shipping contact us at support@luxiface.com
Return Policy
All products are 100% authentic or 100% of your money back. We understand the importance of a satisfied customer and therefore trust is our primary goal.
We do not accept the return of any products as all products are directly procured and shipped from South Korea.
Please contact us if there are any queries.
This item is non-returnable due to hygiene/health and personal care/wellness/consumable nature of the product.
However, in the unlikely event of damaged, defective or different item delivered to you, we will provide a full refund or free replacement as applicable.
We may contact you to ascertain the damage or defect in the product prior to issuing refund/replacement.
Step into the life of a "Seoulista", the style icon of K-Beauty
With our products, give yourself an elegant, sophisticated, confident Seoulista look to shine wherever you are!