What Makes It Special


- What it is formulated to do:
This luxurious cleanser is a unique blend of time-tested apothecary herbs that are rich in vitamin C: wormwood to prevent breakouts, soapberry to detoxify, and sweet flag to cleanse and soften. These botanical ingredients are effective, natural, gentle, and non-stripping cleansing agents. Ideal for normal to dry skin, the creamy lather immediately removes impurities while respecting skin's natural moisture barrier. 

- What it is formulated WITHOUT:
- Sulfates 
- Phthalates 

- What else you need to know:
This dermatologist tested product is formulated without mineral oil, SLS, synthetic preservatives, dyes, and fragrances, and animal origin ingredients.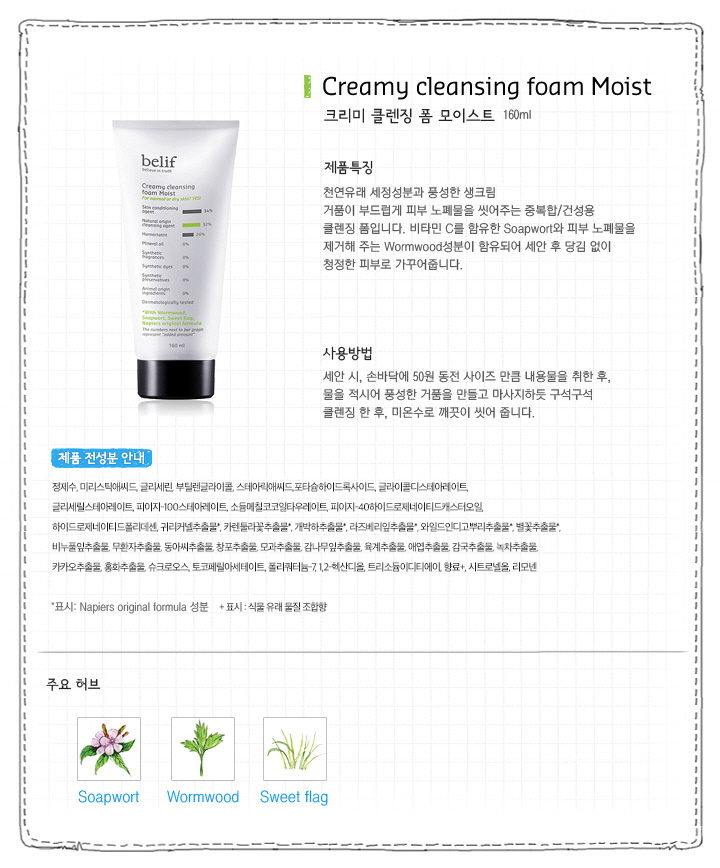 Skin Types
Normal to Dry Skin
AM/PM
AM-PM-Everyday
How To Use
Suggested Usage:
Take a penny-sized amount of the product in your palm and lather with water.
Massage gently and thoroughly over the face and rinse with lukewarm water.
Use daily, morning and evening.
Precautions:
For external use only.
Do not get into eyes.
Skin Solutions
- Effectively remove makeup and impurities while hydrating the skin.
- Prevent breakouts
- Cleanse and soften the skin


Key Ingredients
- Vitamin C
Vitamin C plays a crucial role in skincare, offering a multitude of benefits for the skin. As a potent antioxidant, it helps protect the skin from harmful free radicals, reducing signs of aging and environmental damage. Vitamin C is also known for its brightening properties, helping to fade dark spots and hyperpigmentation, resulting in a more even skin tone. It stimulates collagen production, improving skin elasticity and reducing the appearance of fine lines and wrinkles.
- Soapberry
Soapberry, derived from the Sapindus tree, is a natural and gentle ingredient with remarkable benefits for skincare. Its high saponin content gives it cleansing properties, making it an effective and mild alternative to harsh surfactants. Soapberry is known for its soothing and anti-inflammatory properties, making it suitable for sensitive skin. It helps to remove impurities and excess oil without stripping the skin's natural moisture, leaving it clean, refreshed, and balanced.
- Sweet flag
Sweet flag, also known as Acorus calamus, is a herbaceous plant that offers several benefits for skincare. It contains active compounds such as essential oils and antioxidants that contribute to its therapeutic properties. Sweet flag extract has been used traditionally for its anti-inflammatory and antimicrobial effects, making it beneficial for treating skin conditions like acne and dermatitis. It also has soothing properties that help to calm irritated skin and reduce redness.
Full Ingredients
Myristic Acid, Water, Glycerin, Butylene Glycol, Stearic Acid, Potassium Hydroxide, Glyceryl Stearate, PEG-100 Stearate, Sodium Methyl Cocoyl Taurate, PEG-40 Hydrogenated Castor Oil, Hydrogenated Polydecene, *Avena Sativa (Oat) Kernel Extract, *Calendula Officinalis Flower Extract, *Nepeta Cataria Extract, *Rubus Idaeus (Raspberry) Leaf Extract, *Baptisia Tinctoria Root Extract, *Stellaria Media (Chickweed) Extract, Saponaria Officinalis Leaf Extract, Sapindus Mukurossi Fruit Extract, Benincasa Cerifera Seed Extract, Acorus Calamus Root Extract, Artemisia Princeps Leaf Powder, Tocopheryl Acetate, Polyquaternium-7, 1,2-Hexanediol, Trisodium EDTA, **Fragrance, Citronnellol, Limonene. *Napiers Original Formula. **Fragrances of Natural Origin.

Luxiface Ships directly from South Korea 
1. Shipping fee is charged not on per product but on per order.
2. Order processing time: 0-2 business days
3. Estimated delivery time (including order processing time)
FedEx: 3-5 Days
Korea Post-7-10 Days
Shipping Rates:
Korea Post :$8.99 United States except for Hawaii, Guam, Saipan
Korea Post: $5.99 Brazil, Canada, China, Germany, Spain, France, England (GB), Hong Kong, Japan, Malaysia, Philippines, Russia, Singapore, Thailand, Taiwan, Vietnam.
FedEx : $19.99 (Except South America)
South America :$29.99
*Free Shipping above $99 order value is available through Korea Post only and wherever Korea Post service is available.
The buyer is responsible for the imposition of customs duties and clearance.
For US, Import Tax and Duty over $800. U.S. Customs and Border Protection (CBP) announced that March 10, it raised the value of a shipment of merchandise imported by one person on one day that generally may be imported free of duties and taxes from $200 to $800
How are items packaged?
We package our products in individual boxes. Each product is packaged with a plastic layer and in bubble wrap while fragile items like bottles are safely secured with additional bubble wrap. We pride ourselves on the quality of our packaging.
How to track your package?
Once your order has been dispatched, you will receive an email with the details of the tracking number and the courier company that is processing your order.
You can track the status of your package after the order is placed on the order status page and an e-mail including the tracking link is emailed once the order is shipped.
What is the estimated delivery time?
We usually dispatch most orders within 1-2 business days (excluding Sundays and public holidays), and it usually takes up to 5 days for the package to be delivered depending upon courier partner
For any queries related to shipping contact us at support@luxiface.com
Return Policy
All products are 100% authentic or 100% of your money back. We understand the importance of a satisfied customer and therefore trust is our primary goal.
We do not accept the return of any products as all products are directly procured and shipped from South Korea.
Please contact us if there are any queries.
This item is non-returnable due to hygiene/health and personal care/wellness/consumable nature of the product.
However, in the unlikely event of damaged, defective or different item delivered to you, we will provide a full refund or free replacement as applicable.
We may contact you to ascertain the damage or defect in the product prior to issuing refund/replacement.
The Belif Story
Belif sourced the world over to find the best and purest ingredients and inherits the legacy of a centuries-old herbal apothecary—Napiers, which is renowned for its powerful herbal remedies.