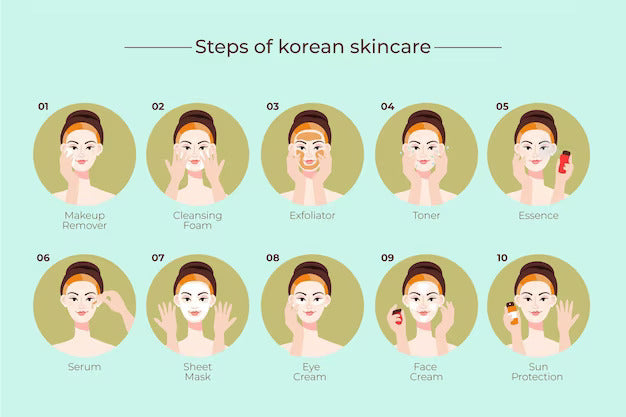 The Ultimate Korean Skincare Routine for Acne-Prone Skin
Introduction
Acne is one of the most common skin concerns that many people struggle with. Whether you have persistent acne or occasional breakouts, finding the right skincare routine is essential to treat existing blemishes and prevent future breakouts. Korean skincare has gained popularity for its gentle yet effective approach to skincare, making it a great option for those with acne-prone skin.
In this article, we will guide you through the ultimate Korean skincare routine for acne-prone skin. We will discuss the different steps and products that can help you achieve smooth, glowing, and blemish-free skin. From double cleansing to spot treatments, we will cover everything you need to know to combat acne and achieve a clear complexion.
Step 1: Double Cleansing
Double cleansing is a fundamental step in the Korean skincare routine. It involves using an oil-based cleanser followed by a water-based cleanser to thoroughly remove makeup, sunscreen, and impurities from the skin. Contrary to popular belief, oil-based cleansers are not pore-clogging and can actually help balance the skin's natural oils.
For the first step of double cleansing, we recommend using an oil-based cleanser like the Banila Co Clean It Zero Cleansing Balm Purifying. This gentle cleanser melts away stubborn makeup, exfoliates the skin, and soothes it in one simple step. It is free from artificial coloring, alcohol, parabens, and mineral oil, making it suitable for sensitive skin.
After removing makeup, follow up with a water-based cleanser like the Cosrx Low pH Good Morning Gel Cleanser. This gel cleanser contains tea tree oil, which helps control oily skin and shrink pore size, while natural BHA helps refine skin texture. It is gentle enough for daily use and leaves your skin feeling clean and refreshed.
Step 2: Mild Chemical Exfoliant with AHA/BHA
Exfoliation is crucial for acne-prone skin as it helps remove dead skin cells and unclog pores. Instead of harsh physical exfoliators, we recommend using a mild chemical exfoliant with AHA (Alpha Hydroxy Acid) or BHA (Beta Hydroxy Acid). These exfoliants can penetrate deeper into the skin to dissolve dirt and oil without causing irritation.
One excellent option for a chemical exfoliant is the Some By Mi AHA-BHA-PHA 30 Days Miracle Toner. This toner is safe for sensitive skin and contains AHA, BHA, and PHA for effective exfoliation. It also contains tea tree water extract, which soothes the skin and promotes a clear complexion.
Step 3: Hydrating Toner
A hydrating toner is essential for acne-prone skin as it helps balance oil production and minimize the appearance of pores. One highly recommended toner is the Klairs Supple Preparation Unscented Toner. It features a soothing blend of plant-based extracts, hyaluronic acid for hydration, and Centella Asiatica to calm and balance the skin. This fragrance-free toner is perfect for sensitive and acne-prone skin.
Step 4: Essence
Essence is a watery serum that delivers active ingredients deep into the skin. It is a crucial step in the Korean skincare routine and can help with hydration, brightening, and overall skin health. For acne-prone skin, the Cosrx Snail Mucin Essence is an excellent choice. It contains snail mucin, which aids in hydration, wrinkle prevention, and repairing dry patches, acne breakouts, and hyperpigmentation.
To use the essence, lightly touch the forehead and nose, spread a generous amount on the cheeks, and tap gently under the eye area to allow the skin to absorb the essence.
Step 5: Mask Time
Treating your skin to a detoxing mask 1-3 times a week can provide additional benefits for acne-prone skin. Sheet masks are a popular option as they can target specific concerns, such as hydration and inflammation. The Briskin AC Control Mask and Dr. Jart+ Cicapair Calming Mask are both excellent choices for acne-prone skin. These masks aid in skin recovery, soothe inflammation, and provide optimal hydration.
To use a sheet mask, apply it to your face for 10-20 minutes and gently pat the remaining essence into the skin. No need to rinse off afterward.
Step 6: Treatment Serums
Treatment serums are targeted products that address specific skincare concerns. For acne-prone skin, two types of serums are particularly beneficial: vitamin C serum and hydrating serum.
Vitamin C serum is fantastic for brightening dark spots and healing the skin. The Klairs Freshly Juiced Vitamin Drop is a popular choice as it contains concentrated pure Vitamin C and natural ingredients. It is best used at night or under SPF, as vitamin C can make the skin sensitive to sunlight.
Another essential serum for acne-prone skin is a hydrating serum. Acne-fighting ingredients can cause excessive dryness, so replenishing the skin's moisture levels is crucial. The Klairs Rich Moist Soothing Serum is perfect for tired, dehydrated, sensitive, and dry skin. It provides deep hydration and a soothing effect.
Step 7: Hydrating Moisturizer
Moisturizing the skin is essential, even for oily or acne-prone skin. Opt for water-based or gel creams instead of heavy creams to avoid clogging pores. The Klairs Rich Moist Soothing Cream is a lightweight yet moisturizing option that provides immediate and long-term hydration. It leaves the skin feeling calm and soothed.
For those with oily and sensitive skin, the Cosrx Oil-free Ultra Moisturizing Lotion is an excellent choice. It contains birch sap, which helps calm and treat sensitive and irritated skin without leaving a greasy residue.
Step 8: Sunscreen
Protecting your skin from the sun is crucial, especially if you're using acne-fighting products that can make the skin more sensitive to UV rays. The COSRX Aloe Soothing Sun Cream and Some By Mi Truecica Mineral 1000 Calming Suncream are both SPF50+ PA+++ sunscreens that provide UVA/UVB protection and hydration. These sunscreens have a lightweight texture and can be worn all year round.
Step 9: Spot Treatment (Bonus Step)
Spot treatments are essential for targeting individual pimples and speeding up the healing process. The Some By Mi AHA-BHA-PHA 14 Days Super Miracle Spot All Kill Cream is a multifunctional cream that aids in purifying the skin and reducing redness. It is gentle yet effective in treating breakouts and can be applied directly to the affected area.
Additionally, acne pimple patches like the COSRX Acne Pimple Master Patch can be used to protect and heal active acne. These patches effectively extract impurities and absorb oil, helping to reduce inflammation and promote faster healing.
Conclusion
By following this ultimate Korean skincare routine for acne-prone skin, you can effectively treat existing blemishes, prevent future breakouts, and achieve a smooth, glowing, and blemish-free complexion. Remember to be consistent with your routine and give your skin the time and care it deserves.